News
Music video for "Blind Love."
It's here! Check out the "Blind Love" music video and don't forget to subscribe to my channel.





Take me with you! Mobile App. "Jimber Jams"
"52 Songs of Happiness" -Coca-Cola




Coca-Cola has partnered with music licensing agency Music Dealers who reached out to over 20,000 unsigned artists and invited them to write and submit a track inspired by a place, which has special meaning to them. The brief also asked the artists to find a way to incorporate the five-note Coca-Cola motif, creating a piece of music that is true to their authentic sound.

The results have been fantastic and Coke is releasing one song each week via our Coca-Cola Placelists app on Spotify
Coca-Cola has choosen "Back to the Days," written by Tiff Jimber and Samuel Hanson to be included in the Spotify placelist.

"Any beach always reminds me of my childhood in San Diego and I can't remember a time being by the waves and in the sand when I wasn't happy, so I wanted to write a song about my hometown beach- Mission Beach, San Diego, CA. I co-wrote the song with Samuel Hanson. We both wanted the song, 'Back to the days," to be high energy, and have a great dance beat. Sam and I were overjoyed with the outcome and we are so proud of our work with Coca-Cola and hope to write many more tunes for this brand."- Tiff Jimber

Listen to "Back to the Days"

Coke features Tiff Jimber Read the Feature Here
Tiff and Coke
California Dreamers Tour 2013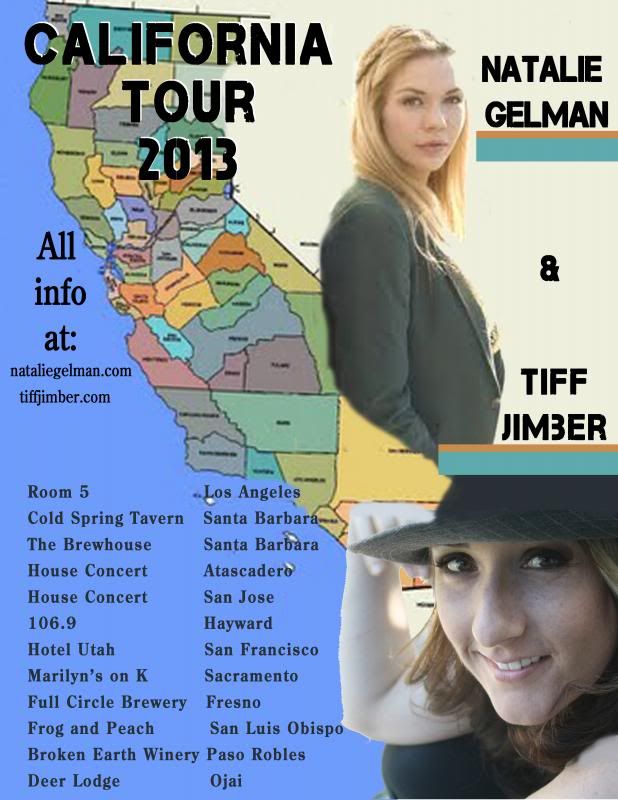 All tickets and info here
"Yours For Free"-Tiff Jimber
"Yours For Free" co-written with Matt Bobb
Live peformance at WitZend Venice, CA
Lyric Video--"Blind Love"
Lyric Video Up- "Reawakening."

Lyric Video up for "Reawakening."